Ultrasonic Immersible Transducers by Layton Technologies
The addition of ultrasonics to your cleaning process can reduce the required cleaning time by up to 80%.
Bolt-in Ultrasonic Immersible Transducers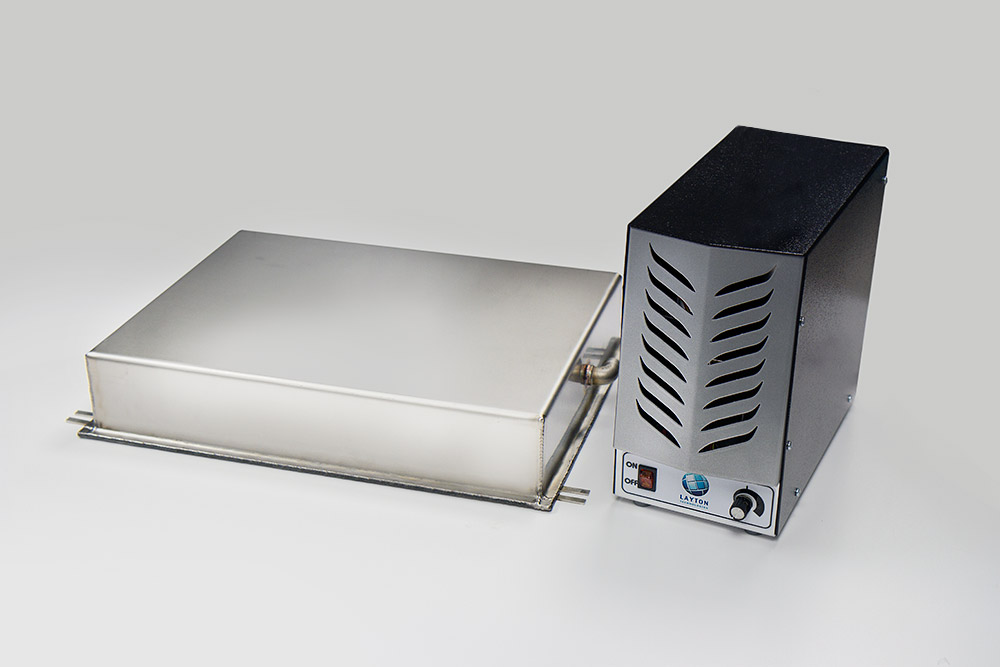 These hermetically sealed, modular stainless steel submersible units are designed for use in new systems and retrofitting into existing systems to give you the benefits of ultrasonic capability.
In order to obtain the best results, the number and location of transducers within the parts cleaning tank is determined based on the geometry of the parts cleaning tank and the type of contamination to be removed. The immersible transducers are designed for use in a heavy, industrial environment. The hermetically sealed welded housings are manufactured from 316 stainless steel and undergo a rigorous testing procedure prior to installation. The modular nature of the bolt-in units allows for flexibility with regard to the location of the submersible units and ease of access for service & maintenance.
Unlike immersible transducers permanently attached to the tank bottom or sides of a tank, bolt in immersible transducer units can be easily replaced sometimes without the necessity of draining the tank. They can be moved from tank to tank to be positioned as required. They can also be rack mounted so that a number of transducers can be moved as a group. This can be particularly effective for plating lines etc. Layton Technologies ultrasonic immersible units are powered by our ultrasonic generators. The generators offer a full range of variable frequency sweep together with a full range of variable power control. They are fully field-tested. They are fully protected against open and short circuit output. For most cleaning processes, transducers manufactured from 316 stainless steel are more than adequate but we do have the facility to manufacture from more specialised materials should you require immersible units for use with particularly corrosive or acidic chemistries. All sizes and configurations are readily available.